TPXTM It has excellent transparency, heat resistance, peeling resistance, etc., and its use is widely involved in industrial materials (including peeling film, peeling paper, high-pressure rubber tube shaft sleeves, LED molds, etc.), food packaging materials (including heat-resistant preservation Films, fresh-keeping bags for fruits and vegetables, etc.), as well as traditional uses such as physical and chemical experimental equipment, microwave oven tableware and so on.

TPXTM It is a specially designed crystalline polyolefin with outstanding heat resistance, easy peelability and transparency.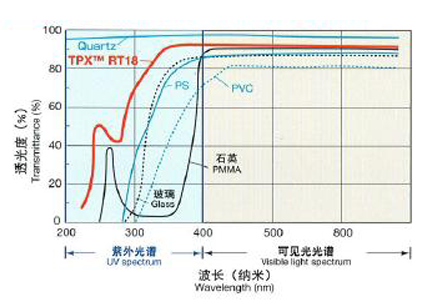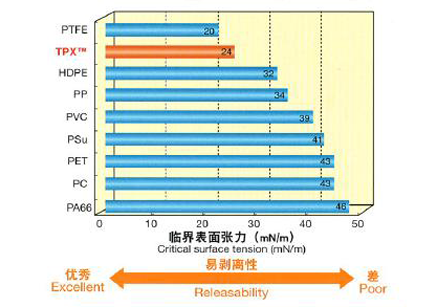 TPX is transparent and has excellent light transmittance. In particular, the UV transmittance is higher than that of glass and other transparent resins, so it is also used in optical analysis units.
The melting point of TPX is 230°C and the Vicat softening point is also high, so it can be used at high temperatures. However, its heat distortion temperature is almost the same as that of polypropylene, so please be careful when considering applications with heavy loads.
The surface tension of TPX is (24dyne/cm), which is second only to fluorinated resin, and has excellent peeling properties. This material is used in engineering peeling from other materials (epoxy, polyurethane E). Paper, peelable films for printed circuit boards, and LED molds.
TPX resin itself has good air permeability. Using this feature, it is used in the fields of packaging materials for fruits and vegetables and gas separation membranes.
TPX is a kind of polyolefin product like polypropylene, so it shows excellent chemical resistance compared with other polycarbonate E and propylene. It is used in various experimental instruments and cosmetic lids.
Because it is a polyolefin, it is not easy to absorb water, and will not cause performance degradation and size changes due to long-term water degradation. The same is true in boiling water. Using this feature, it can be applied to incubators and iron sinks.
PX has the lowest density among various thermoplastic resins and has a larger volume than other transparent resins, so it can reduce the weight of molded products. Focusing on its "light" characteristics, it has vigorously developed various products in the leisure field and high-tech products.
◆ Food hygiene characteristics
Our company has brands that comply with various Japanese domestic standard tests (Ministry of Health and Welfare No. 20 and free import product catalogs), US FDA standards. EU food standards, and have a long track record in the field of microwave tableware.
Standard brand properties


○ Medical and physical chemistry laboratory equipment
○ High frequency connector insulator
○ Microwave tableware and plastic wrap
○ Coffee machine container
○ Steam recovery tank of rice cooker

We could not find any corresponding parameters, please add them to the properties table