Syndiotactic Polystyrene (SPS)

SPS is a resin developed by Idemitsu in 1985 using styrene as raw material and metallocene catalyst. It is the first para-polystyrene resin SPS developed in the world.
On the basis of the low specific gravity, good electrical properties, hydrolysis resistance, and excellent molding processability of the previous ordinary polystyrene resin, it has added the unique characteristics of crystalline resin, such as heat resistance, chemical resistance, Dimensional stability, it has many excellent new polymer crystalline resins, and the crystallization speed is fast.
Unreinforced resin has a density of 1.01g/cm3, a glass transition point (Tg) of 100°C, and a melting point of 240-270°C.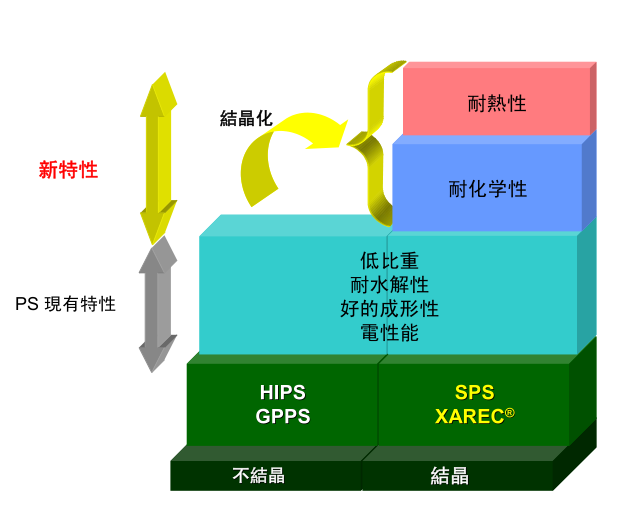 It belongs to the smallest category in engineering plastics, and it is more advantageous in terms of reducing the weight of parts and reducing costs.
Compared with other polyesters and PAs, SPS has excellent hot water resistance and water vapor resistance close to PPS.
It is not easily corroded by various acids and alkalis, and has excellent corrosion resistance to oils and refrigerants related to the automotive environment
The long-term heat resistance temperature is 130℃, the heat distortion temperature is 250℃, and the melting point is 270℃. It is better than PBT, PET, PA66. It is not easy to absorb moisture, can withstand soldering, and has the ability to withstand reflow soldering. Therefore, it is used in electrical and electronic parts. The SMT chip IC parts and connector materials are well used
The dielectric constant and dissipation factor of SPS are lower than PBT, PET, PA66, PPS, PC, second only to fluororesin. The insulation breakdown strength of SPS is higher than that of PBT, PET, PA66, PA46, PPS, and the leakage resistance is above 400V. It has stable dielectric properties in a wide temperature range from low frequency to high frequency. Excellent insulation breakdown voltage, arc resistance, electric track resistance characteristics, can be used as a variety of insulating materials.
The shrinkage difference between the flow direction and the vertical direction of injection molding is very small. Compared with other GF reinforced crystalline resins, it has good dimensional stability retention.
It can be processed and molded by a standard injection molding machine. It has high fluidity close to LCP and is especially suitable for thin-wall molding. In addition, the deterioration caused by the history of overheating is very small, and it is easy to crush, so it has excellent recycling performance.
◆ Electroplating properties
SPS adds an adjustment process to the electroplating production line for ABS resin, and electroplating can be carried out by imparting polarity.

● Non-reinforced toughening
● Enhanced flame retardant
● Alloy (PA66/SPS, SPS/PS)

Properties
Material
Density
Elongation at break
Flexural modulus
Izod notched impact strength
Heat Deflection temperature (1.82MPa)
Heat Deflection temperature (0.45MPa)
Flame retardant
| Unit (ISO) | S100 | C132 | C142 | S931 | D132 |
| --- | --- | --- | --- | --- | --- |
| | SPS | SPS-GF30 | SPS-GF40 | SPS-GF30 | SPS/PS-GF25 |
| g/cm3 | 1.01 | 1.25 | 1.36 | 1.45 | 1.24 |
| % | 20 | 2.1 | 1.5 | 1.7 | 2.3 |
| MPa | 2500 | 9200 | 12600 | 9600 | 7800 |
| KJ/m2 | 10 | 13 | 10 | 8 | 13 |
| ℃ | 95 | 242 | 253 | 230 | 135 |
| ℃ | 110 | 268 | 270 | 264 | 140 |
| ℃ | HB | HB | HB | V-0 | HB |

○ Electronic and electrical components
Microwave oven rotating disk, pump element of electric kettle, vacuum cleaner blower duct, connector for motherboard, air conditioner convection fan blade, circuit board connector, lampshade, rice cooker
Exhaust valve solenoid, speed sensor, controller, wiper, connector, motorcycle silencer cover
Water flow switch, circulating pump device, bathtub connection port


We could not find any corresponding parameters, please add them to the properties table