A new generation of engineering plastic polyketone 'POKETONE'
POK is an alternating copolymer of carbon monoxide and olefin polymer material, also known as aliphatic polyketone.
The new green and environmentally friendly polymer POK is divided into two types
[Trimer: Carbon Monoxide + Ethylene + Propylene] For engineering plastics-injection molding and extrusion processing. Melting point is about 220℃
[Copolymer: Carbon Monoxide + Ethylene] For high-strength fibers-wet spinning. Melting point is about 260℃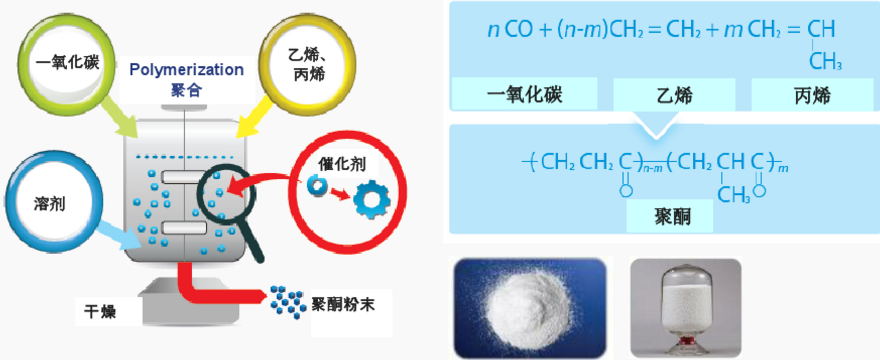 The carbon monoxide used in the production of POK mainly comes from the manufacturing industry of hydrogen, steel and coal.

◆ Compared with the original engineering plastic materials nylon and PBT, the impact resistance is more than 2.3 times stronger.
◆ POKETONE is the most resistant to chemical substances among plastic materials.
◆ In particular, it has excellent hydrolysis resistance, so there is almost no change in physical properties caused by moisture.
◆ Compared with polyacetal (POM), the strongest material in existence, POKETONE has more than 14 times better abrasion resistance (based on resin raw materials),
◆ It is a semi-permanent material and does not require replacement of parts.
High barrier properties: gas barrier properties
◆ The gas barrier of POKETONE is the best among existing polymer materials.
◆ At the same level as EVOH used as food packaging material
◆ When POKETONE burns, ketone (C=O) gas and hydrogen react to form water to form ballast. The ballast layer cuts off oxygen and heat, so it is flame-retardant.
◆ Compared with nylon, it can save 50% of flame retardant content (standard V0 grade).

6 basic resins and 66 modified models, melt index 3~200℃
● Mineral fiber reinforced

Properties
Specific Gravity
Melt Index
Flexural modulus
Charpy notched impact strength
Vicat softening temperature
Heat Deflection temperature (1.8MPa)
Heat Deflection temperature (0.45MPa)
Molding shrinkage (3mmt)
Test (ASTM)
Unit
General purpose
Impact resistance
30% Glass fiber
Base
M335AR5FV
M33AG6A
D792
-
1.24
1.11
1.47
D1238
g/min
3~300
14
46
D790
MPa
1100~1500
620
6700
ISO179/1eA
KJ/m2
5~17
95
13
D1525
℃
155~195
-
210
D648
℃
90~105
-
210
D648
℃
155~200
-
215
D570
%
1.8~2.0
-
0.2~1.1

○ Green and environmentally friendly materials, free of harmful substances and formaldehyde
□ Water treatment applications: pipes, water purifier parts, kitchen parts, shower heads
□ Cosmetics: cream jar shoulder lining, cream jar lining, lipstick stick leak-proof, cosmetic cover
○ It has excellent impact resistance under a wide application environment temperature
□ Cars: connectors, wheel covers, headlight bushings
□ Industrial products, electronic appliances: alkaline battery gaskets, cable glands, tool housings, box frames
○ Excellent chemical resistance, fuel resistance and hydrolysis resistance
□ Automobile: radiator end groove, fuel cap, fuel pump housing
□ Industrial products, electronic appliances: cosmetic packaging, hydraulic seals, industrial supports
○ Excellent wear resistance
□ Car: headlight lock
□ Industrial products, electronic appliances: automatic teller machine and copier gears, seat cams, mixer bases, industrial cutting semi-finished products, window trims invisible locks, refrigerator door locks
○ Low water permeability and gas barrier properties
□ Automobile: fuel pipe, fuel tank
□ Industrial products, electronic appliances: tube sleeves, food packaging, packaging bottles, personal care products, packaging films


We could not find any corresponding parameters, please add them to the properties table